➽ Motorsport Network - Mercedes to bring experience to the track

Joined

Jul 1, 2018
Messages

3,865

​
24hs hours before the first big event of the new IRC F1 Season to have its showdown in South Africa, we met Mercedes-AMG F1 team principal Kaspar Martell to talk about his views and opinions on the upcoming race and his expectations for this new season.
Finally its almost time. The whole world of motorsports is looking at Midrand, South Africa, for the first race event of the 1997 Season. With the newly formed IRC, and a whole group of new contenders to the F1 Drivers and Constructors World Champion, it was a nice surprise to find a very well known name in the world of Formula One written on the pit lane. Mercedes-AMG F1 makes its comeback as a team after over 40 years of being only participating as an Power Unit provider. With expectations high, it was clear that the prestige Mercedes brought to the 1997 Season is also a clear warning to the competition, as it looks like the german team has all the intention to uphold his name and be the winner at the end of the season. The experience gained in the past, and specially the collaboration with Formula One as a major engine provider certainly gave the Mercedes engineers a vital feedback for the moment of sitting down and designing the car for this year, the MB-AMG-880.​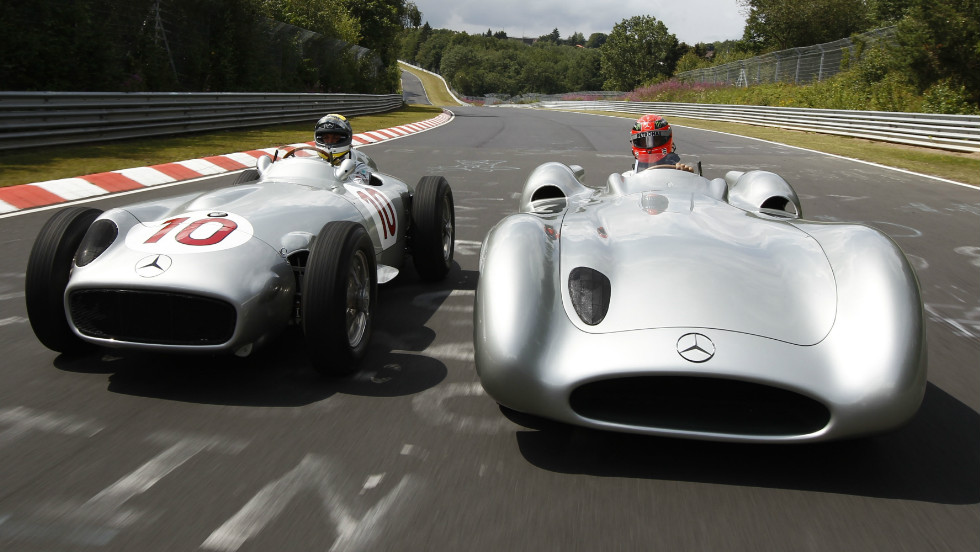 We visited team principal Kasper Martell in the press area here in Transvaal.​
-------------
​
Motorsport Network (M.N.): Mr. Martell, thank you for taking time out of your certainly busy schedule to talk to Motorsport Network, we are sure that you must have a lot of things to do before this historical comeback moment. As the only historical team participating in this new era of Formula One racing, what are Mercedes aspirations for the current Season?



Kasper Martell (K.M.): We have an extensive motorsport history. We think think that we have some of the most experienced builders and support staff that should be able to give us an edge this season. Our team has had years to get the most out of the amazing cars we have available. We hope to be able to live up to the expectations of Mercedes-AMG F1 fans.



(M.N.): But obviously, experience and history is not everything, and there will be some serious rivals and competition tomorrow at the starting grid, do you think there is a Team that will be a more direct threat to your ambitions?



(K.M.): Nexus F1 from the UK for sure. Being from the UK they have an amazing motorsport pedigree. I've known their manager Shaun Williams for years and I know he will have that team in a great position to win some races. We will be trading paint out there on the track with them for sure.



(M.N.): The United Kingdom has certainly a long history in Formula 1, shaping its structure and bringing great champions like Nigel Mansell, Damon Hill and Jackie Stewart, but despite this long F1 tradition, it seems we wont have a racing weekend at Silverstone this year, which is certainly a pity. Perhaps you can make it up to the F1 fans by giving us a big show in your own traditional homerace.



(K.M.):We always look forward to having the home field advantage at the Nürburgring. Having all of the home town fans in attendance cheering us on is always nice to see. But we are looking forward to the complex track in Shanghai. They have some of the longest straights and most arduous corners. Its somewhere our new drivers have never tested before. It looks to be very difficult but I feel our team will be up to the challenge when race there later in the year.



(M.N.): Finally, we don't havae to forget that Formula One is a brutal sport in terms of

competitiveness and rivalry for the podium, specially in this context of a new IRC format and teams still fine tuning their cars and drivers to have the best combination on the track. Is your team prepared in terms of your newly hired drivers?

(K.M.): We are really excited about our new ace driver Morgen Luxemburg. She has been able to do some amazing things with our MB-AMG-880. She gets laser focused when its race time. I haven't seen someone with this much talent in years. But it is her first year on the IRC so mistakes are too be expected. She has our full support. He also have veteran driver Odo Roth. He has been invaluable during meetings and helping Morgen reaching her potential. Even though he is nearing the end of his career, I think he still has plenty in the tank. I think he is going to surprise a few people.



(M.N.):

Principal Martell, we won't take you more time, thank you very much, and we look forward to tomorrows big race.

Everything is ready for tomorrow, and with 7 great and promising teams to accompany Mercedes this Season, we are certain that the spectacle will be great and race fans around the world will witness history in the making. We wishh all participants, teams and drivers, good luck!​
-------------
​
Vaka
Jamie