Brazil - National Cyber Security Agency

Joined

Jul 2, 2018
Messages

1,083
[big]Top Secret [/big]
* 2 Cyber Security Buildings will be built in Brazil. 1 in Brasilia and 1 in Rio. They will house the nations Cyber Defense Teams, Cyber Attack Units as well as SIGNIT operators.


* They will be located in out of the way suburban districts with roads accessible only to authorised personnel. Each will have 500,000 square feet of space. They each will have their own power grids. They will be linked up to current Brazilian satellites and supercomputers for data collection.

* Each will have 50 watchposts with at least 2 armed guards at each post 24 hours a day. There will be 5 VBMT-LR's at each site. Compounds will be surrounded by 3 meter high electrified fences. Each will have two helipads. They will have their own water supply and enough food storage for 3 months in case of war or a national emergency. Entrance at the gate will be done by face scan. Entrance into the facility will be by fingerprint key only.
Cyber Defense - 250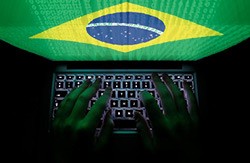 Training: 6 months


Cost: $20,000
Cyber Attack Unit - 250
Training: 6 months


Cost: $20,000
SIGNIT - 500

Training: 6 months


Cost: $20,000